Mercy response to COVID 19
The ongoing COVID-19 pandemic has and continues to change lives of ordinary people worldwide. Historically, Sisters of Mercy have always been involved with humanitarian causes and contributed by helping during cholera epidemics, wars, and other notable tragedies such as the AIDS crisis in Africa. In the spirit of Catherine McAuley and driven by the Mercy charism, the Sisters have taken great efforts to help those in most need during this challenging and unprecedented worldwide emergency.
In ordinary times Sisters of Mercy quietly work in their areas of social outreach addressing local, national, and international needs but, have recently found themselves responding to the crisis in creative ways.
A collaborative effort of Mercy Archivists worldwide to document the overall Mercy response to COVID-19 is underway. This blog is a selection of examples of ways in which Mercy Sisters have contributed so far and a celebration of the spirit of hope for a better future.
PPE
Mercy Sisters all over the country joined local Scrub Hubs or For the Love of Scrubs groups answering appeals to make scrubs, facemasks, headbands scrub bags and scrub hats for NHS and care home workers who find ordinary nursing tunics very hot to wear under PPE when caring for Covid 19 patients.
Sr Martina in Wanstead has been making matching face masks and hat sets for the Sisters and carers and asking for a donation which will go to funds for Sr Vincent Finnerty's mission in Kenya.
Sisters in Southcoates Lane in Hull have also been active in lockdown- sewing masks, headbands, scrubs, and scrub bags for the Hull & Hornsea for The Love of Scrubs group.
Sister Sue Morrison, from Hull, observed on 8 April:
"Yesterday afternoon, 4 of us Lisa, Honyshan, Sue and Kelvin made 200 visors for shop checkout staff and such over a 4 hour stretch.
Kelvin led us and had got the raw materials.  We worked with masks
and gloves. A little bit of cross borders cooperation: Hong Kong, New Zealand,
China, UK.  Kelvin is from Hong Kong and a 3rd year Biochemistry PhD student." 
The late Sr. Aidan O Sullivan's beloved old treadle Singer sewing machine, rescued from Alnwick, has been doing sterling service along with newer but perhaps more temperamental, machines.
Sr Josephine using Sr Aidan's treadle machine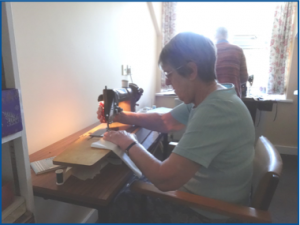 Sr Martina and Sr Imelda modelling the newly created face masks and hats.
In response to the shortage of PPE, Rachel Easter, the Manager at Mercy Care Centre in Derby put out a plea for any old sheets, tablecloths, or duvets that could be adapted into protective gowns for her staff to wear in attending the residents. Many local people, as well as several communities of Sisters responded. The idea seemed to gain momentum-so much so that the Daily Mail newspaper reported the idea online!
A group of seamsters rallied to create hundreds of protective gowns from duvet covers for care home staff at risk of catching coronavirus. In just two weeks almost 20 residents of Ashbourne, Derbyshire, and the surrounding villages fashioned more than 250 garments which provide extra coverage over their regular scrubs. Following a template created by one of the squad, each gown took less than two hours to make at home with just a sewing machine and a pair of scissors.
Care home manager Rachel Easter, 52, said:
'The staff here are at the frontline and it gives them reassurance and an additional layer of protection. The government guidelines say care workers don't need hospital level gowns but if you're caring for someone with Covid-19 you want to have something more than a pinny. We've received about 100 gowns so far meaning we no longer need any more which is absolutely fantastic. It has been such a brilliant thing to see the power of community effort. The support makes the staff realise that the general public are thinking about them when they come out here and do a frontline job. It makes you realise that other people care about you and your safety.'
NHS Volunteering and Community Initiatives
In early April, the UK Government appealed for people to sign up to volunteer as an NHS responder in order to support vulnerable people during the Coronovirus pandemic. Sr. Geraldine Sweeney, from Newcastle under Lyme, responded to the call to be a volunteer.Once downloaded, the app alerts the user to anyone who needs help. She has responded by phoning elderly people who are isolating at home and are feeling lonely and has also volunteered to collect food and medication for people.
In addition, Sr Geraldine provided extra help to Sanctus-a charity in Stoke on Trent supporting Asylum Seekers and Refugees. They hold regular weekly drop-ins during which people are given food, can attend language classes and receive advice. In order to continue this support during lockdown, Sr Geraldine joined a team of "Covid Drivers" who were to collect food parcels and distribute to about twelve families. Over one hundred families are supported each week.
Sr Geraldine with Angela and Mehdi, members of the incredible packing team
Revd Sally collecting 20 bags of donations in the Sanctus van which the Sisters of Mercy helped to purchase. 
Working with the Homeless
The Hull Homeless and Rootless Project, a hostel for the homeless where Sisters have volunteered over the years, brought 'outdoor relief' food items from parishes and individual donations. With the government pressuring local councils to ensure the street homeless are not left on the streets during the pandemic, the Endsleigh Centre had once more been pressed into service for the homeless. Fortunately, the new owner of the old Endsleigh community building was able to work with the council to allow it to be used by others who would otherwise be unable to self- isolate. There are now 30 ensuite bedrooms. Food and toiletries provided by the council, and security and management by the outreach teams. The Hull Homeless and Rootless Project continues at Endsleigh Park to give house space to the street homeless.
Combating loneliness
Sr Agatha from the Bermondsey Convent was assigned to phone elderly people on a weekly basis. This was set up by a voluntary community group called Time and Talents as a way of combating loneliness during the pandemic.
"Over the weeks we have become talking friends. One day I was late in phoning and one of my people phoned the Convent to know if I was alright! I was really touched by his thoughtfulness. We were encouraged to phone Sisters living on their own and we also kept a list of people who asked about our welfare." Sr Agatha Collopy
A thank you message from a student at Shuttleworth College, Lancashire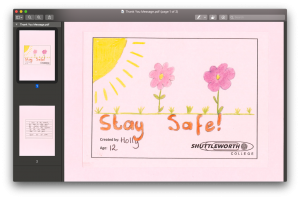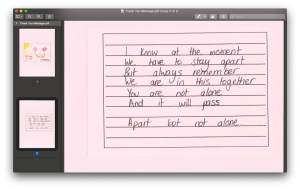 Efforts are still being made and the Sisters continue to support communities. Some worldwide Mercy efforts include a youtube video created by the Mercy Education System in ISA and a quarantine quiz hosted by the Mercy Hospice in New Zealand. Whilst the pandemic has had a negative effect on the lives of many it has also demonstrated that in times of adversity people come together in aid of one another. With the lockdown slowly easing, it is important to keep record of the work of the Sisters during this extraordinary historical period.
Vida Milovanovic, Institute of Our Lady of Mercy Archivist