23rd March 2021 First Anniversary of Lockdown
Sr Betty holding the Trinity Icon which is now in Coolock garden,
Newcastle under Lyme in Thanksgiving for protection from the Corona virus.
The icon is made from recycled materials and as we are in Holy Trinity Parish
Sr. Betty was inspired to make a Trinity Icon. It was Blessed by Fr Marco Egawhary,
who is a newly ordained priest and who came to Holy Trinity last Summer.
The second picture shows Sr Bridie mounting the Icon in Venerable Catherine's garden.
After the first lockdown we had a Holy hour from 5 to 6 o'clock every evening in Coolock chapel.
The Blessed Sacrament was exposed in the Trinity Tabernacle.
Sr Bridie Stephens
Sr Betty Larkin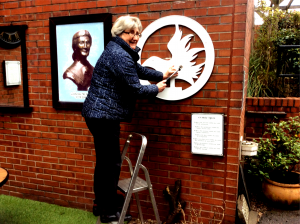 We asked our communities for any memories they had of the first year of lockdown and how they have coped.