Lockdown in Whitby

Our Community in Whitby have also struggled with the confines of lockdown.  The Community is one that offers care to our Sisters.  One Sister has sent in the positives and negatives as she has seen them and the preparations they are making for Easter.

Negatives during lockdown

There was an overriding need for air – to get outside, away from confinement.

Fear, rules and regulations abounded.

Worse – the virus visited us –one and all – Staff too.

While lying on a sick bed – the need, a longing, to hear the voices of family.

Death came calling too – a knock at the door kept bringing news of the loss of another one of our own.

Two in twelve hours, a third a few days later.   Frightening – death was indeed very close.                                                                                    Three funerals within one week, two together, without the usual rituals.

Graveside services only, the first – a double funeral – in torrential rain.

Positives during lockdown

Noticing tiny aspects of nature – a beautiful line of marigolds adorning the back wall of gardens.

Children's messages of thanks and hope on windows added to the weekly national clapping for NHS and Carers.

Seeing two magnificent arcs of a rainbow – surely a sign of God's presence at a funeral service held in Whitby Cemetery for our Sisters.

Then as the sisters returned home there was another broader and richer in colour while finally the last one arched over our house – a sign of protection, a rainbow of hope.

To help our Sisters with attending Mass and other special services another Sister sets up her laptop almost daily to allow two Sisters to  follow a Mass during Lockdown.  She also selects other items of interest for them to watch during this time

Who could find the first snowdrop?  This developed into searching for signs of Spring when out on short walks. And so the golden crocus appeared, followed by the purple and the white.  Daffodils, dwarf and tall pushed quickly through the hard earth.  Tiny tulips were next and grape hyacinths too, catkins on trees, together with buds, eventually blossom all hurrying, uplifting to offer new life.

The radiant light in the sky, the evening sun reflecting on buildings all played their part.  The beauty of both dawn and sunsets added to the resplendent scenes.

There was also the sound of birdsong, and the silence of the empty streets – shops closed – no one about except on vaccination days.            Yet in the silence and stillness there was and is a palpable Presence, offset occasionally by the sound of the wind and waves on the shore.

The care and concern people offer one another other, strangers – stepping aside to allow one to pass safely – the simple question 'Can I help?' – a spirit of Community and Care is evident.

Indoors jigsaws helped pass the time of day, – some Staff became involved too, on their breaks – and in their generosity brought some they had at home – as there were varying degrees of difficulty!

Preparations for Easter

Lent came early – with the promise of Easter.

Five of us took it in turns to lead variations of the Way of the Cross – one each week – these were enriching.

Polystyrene eggs were decorated for an Easter tree organised by Staff.

As for the Easter ceremonies we will follow suggestions offered by our diocese.

However, there are and will be daily individual 'displays', in house, during Holy Week to help with reflection for anyone who wishes to avail of them.

As for this week, Holy Week – our daily displays will cover people and our senses – not exactly together

E.G. Mary Magdalen (Bethany visit); Peter and Judas

Sense of smell (anointing), touch, taste etc.

On Thursday we usually have a symbolic Passover,  Friday – a large wooden cross, nails, hammer,

crown of thorns and on Saturday an Easter Garden with tomb and water feature.

All we can do is take one day at a time –                                                                               Sr Angela Porteous
Reflection

Reflection

 
roselliwa.kampanyabul.site

To make sense of anything in my finite life I need to hold it as part of my relationship with God.

How did Jesus experience and live what I am experiencing and living this year?

STAY AT HOME:  He lived thirty years in Nazareth with his family " increasing in wisdom and age" while he helped Joseph shape and carve the wood. We are created to be "God's work of art". What has been shaped in my experience of lockdown?

COMPANY: Jesus was in the company of Mary and Joseph. No words of Joseph have ever been recorded. Silence enables reflection.

"Mary pondered all these things in her heart. "Silence is more than the absence of noise – Silence needs to be creative.

UNCERTAINTY:  The pandemic brought a deep understanding of the meaning and impact of uncertainty.

This is a reminder of Catherine McAuley's abandonment to Divine Providence.

AT HOME:  Has home become a better place?

AT HOME: There is even greater need to serve the Common Good through outreach. So new skills have to be learned.

MORNING:  Thank you, Lord for the gift of a new day. Help me not to waste it, but to use it to the best of my ability.

NOON:  Like Jesus, tired by the journey, I need to rest by Jacob's well.

EVENING:  There is a sameness about the days – no coming, no going, no variety.

"It is evening. Stay with us, Lord, on the journey".

NIGHT AT HOME:  As I ask God to shower his mercy on his world and on all in need,

I can reach the ends of the earth on the wings of prayer.

Sr Catherine Quane

1st Anniversary of Lockdown
23rd March 2021 First Anniversary of Lockdown
Sr Betty holding the Trinity Icon which is now in Coolock garden,
Newcastle under Lyme in Thanksgiving for protection from the Corona virus.
The icon is made from recycled materials and as we are in Holy Trinity Parish
Sr. Betty was inspired to make a Trinity Icon. It was Blessed by Fr Marco Egawhary,
who is a newly ordained priest and who came to Holy Trinity last Summer.
The second picture shows Sr Bridie mounting the Icon in Venerable Catherine's garden.
After the first lockdown we had a Holy hour from 5 to 6 o'clock every evening in Coolock chapel.
The Blessed Sacrament was exposed in the Trinity Tabernacle.
Sr Bridie Stephens
Sr Betty Larkin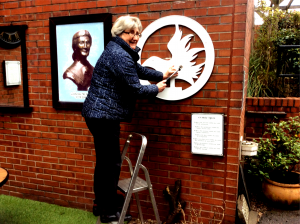 Fix You song by St Mary's Primary School, Eltham
St Mary's RC Primary School, Eltham
International Women's Day
#IWD2021
This March 8th we are marking International Women's Day with a homage to Women@thewell, a dedicated service for women set up by the Sisters of Mercy. International Women's Day is a global celebration of the cultural, economic, social, and political achievements of women as well as a day calling for action for accelerating women's equality. It all began with a gathering in 1911 and has since become a collective endeavour without ties to a particular group, country, or organisation.
Sisters of Mercy have historically focused on helping and empowering women by providing education and routes out of poverty. It is therefore fitting to celebrate today the work of Women@thewell.
A service for women by women
Women@thewell was developed by the Institute of Our Lady of Mercy (IOLM) to provide a uniquely holistic and multifaceted range of services to vulnerable women caught in multiple cycles of abuse and social exclusion. The concept of Women@thewell was built on 10 years' experience of its founder Sister Lynda Dearlove. Sr Lynda had been working with women in the East-End area of London, the majority of whom were victims of street-based prostitution, homelessness, drugs & alcohol, violence, and both physical and mental ill-health. During her time spent with these women, Sister Lynda concluded that the broken up, "revolving doors", approach of the existing services was not fit for purpose as it left many of the women unable to break out of the cycles of abuse. The bureaucracy of the system led to the women being seen by many people, at different institutions, at different times, thus lacking continuity and consistency in specialised support that was required.
Responding to a need for a new service dedicated to women, the Institute of Our Lady of Mercy (IOLM) funded the initial capital and revenue costs to get the Women@thewell project up and running. They found a suitable property, an old hotel in Birkenhead Street in Kings Cross, refurbished it, and set up a new independent, self-funding Charity called Women@thewell (w@w).
The IOLM began funding w@w for its first three years and retains ownership of the building and responsibility of its external maintenance and leases the premises rent free to w@w. The Centre was officially opened on 24 September 2007 by Cardinal Cormac Murphy O'Connor and one of the patrons of the Charity, Baroness Helena Kenneddy, QC. The Institute joined with the National Board of Catholic Women in this work.
Since the inception of w@w, many individual Sisters and communities have been involved in various ways. Srs Lynda Dearlove, Eileen Burns RIP, and Anne Hewitt formed the first community in 2006. Following the chapter of 2008 and Anne Hewitt's election onto the Leadership Team, Camilla Hunt RIP took her place in the Community having already had experience of the situation in her role as Link Sister to the project. Sr Anne has since moved to a different community but Srs Dympna Reardon and Roisin Kelly joined in November 2010 and June 2011, respectively.
Various Sisters of Mercy have either served or are serving as Trustees to the project. Other Sisters have also lent their skills in various activities, one sister provides reflexology sessions and other Sisters have taken part in art and craft activities, amongst them Sr Dympna Reardon is a shining light and Sr Majella Sheridan from the Union Sisters of Mercy worked for several years in this field. In addition, Sisters from the following congregations work in a voluntary capacity: Dominicans, FCJs, La Sainte Union, Good Shepherd, Sacred Heart, Holy Child Jesus, Servites, Daughters of Sion, Loretta Sisters and the Order of St Giles.
The project has received support from Communities such as Eltham, Whitby, Colwyn Bay, Broughton Hall, Brighton, Filey, Oldham, and Wanstead, just to name a few. Some Communities have taken part in the "Bags of Courage" scheme, to knit individualistic bags, scarves, and other knitted goods that can be sold to support the work done in the centre. Many individual Sisters have given donations from their own budgets to support the work.
What inspired the name Women@thewell?
The name women@thewell was inspired by two mutually compatible concepts. The first concept is based on the historical significance of the well, which was central to communities because water is essential to life; it was seen as the woman's place as women gathered and chatted whilst waiting their turn to draw water; and it was a place of common ground.
The second concept is rooted in the Christian tradition, specifically the Gospel passage John 4 (1-42) where we meet the unknown Samaritan woman at the well. Seen as a social outcast and looked down upon, like many of the women the project aims to support, she was multiply disadvantaged and yet she is the first active apostle indicated in any of the Gospels.
Women@thewell gain royal recognition
Sr Lynda Dearlove was honoured by the Queen in the New Year's Honour Lists in 2010 with the MBE. This news was an opportunity to further highlight and raise awareness of the plight of so many women trapped in the world of prostitution.
Women@thewell and the London Olympics 2012
During the planning stages of the Olympics in London, it was noted that the prevention of prostitution and protection of women was paramount. The centre was able to develop relationships with volunteers from All Souls and other Kings Cross Churches who helped during the Olympics. It also resulted in an official delegation from the Brazilian Government visiting W@W and an invitation for W@W to visit Rio de Janeiro with representatives of the Police and the Home Office ahead of their own Olympic Games.
Women@thewell in collaboration
Due to the high profile of this type of work, the centre has been involved in many other efforts to help vulnerable women. Below are a few examples:
Local area
The service works with many other partners to bring relief, offering holistic care, and linking women to other agencies. Some of these partners included De Paul UK, Camden Safety Net, Camden Safer Streets Team, Isis, and the Terrence Higgins Trust.
United Nations
In March 2013 Sr Lynda attended the United Nations Commission on the Status of Women where the priority theme was the "Elimination and prevention of all forms of violence against women and girls".
Convention on the Elimination of all forms of Discrimination Against Women
In May 2013 CEDAW launched a Shadow Report which had been produced by a coalition of 42 women's and human rights organisations across the UK. This report was in preparation for the examination of the UK Government by the UN CEDAW Committee in July 2013. Only on 12th November 2020 Lynda was on "Woman's Hour" on Radio 4 giving a brief interview along with Joanna Moorhead on religious women and the efforts they are making for today's world.

Vida Milovanovic

Archivist

Flowers in our Annals
Botanical drawings in the Bermondsey Annals
Historically annals have been kept by each Mercy congregation as a method of producing a record of events year by year. All Institute of Our Lady of Mercy convents still produce annals on a yearly basis and whilst in the present day these are much more likely to be digital and full of photographs as well as text, the earlier examples were largely prose, reading as diary entries, with some featuring the occasional stylised lettering, decorative borders, and illuminations. Whilst consulting the Bermondsey annals we found some beautiful botanical illustrations. They appear at the end of annual entries, acting as demarcation between the previous and oncoming years. As the volume in question is a series of bound annals spanning the years 1856-1905, there is a sizable collection of vibrant illustrations of which a sample can be seen  below:
We have no confirmation of who the artist is but speculate that between 1856 and 1874 it is very likely to have been Mother Clare Moore, one of the ten original members of the Sisters of Mercy and the first Bermondsey Mother Superior, as the letters in her writing match the hand in the annals. We also know that her blood sister Sr Clare Augustine Moore was a talented draughtswoman so it is possible that Mother Moore inherited the same creative flair.
We were fortunate to have the expert eye of Dr Mark Spencer, botanist of the Linnean Society, London, cast over the illustrations in hope of identifying the plants depicted. Whilst the drawings are largely heavily stylised renditions, Dr Spencer managed to deduce what they might be, please see captions.
Vida Milovanovic, Archivist