St Mary's Primary School with their school song!

Subject: Our School Music Video Final

Time for a Change

Recently (July 2021) we have received an email from The Better Way enterprise, which makes for some interesting reading about how we can help each other and ourselves.  We felt that it might be of some interest to anyone who visits our website too.
Global Divestment Announcement

Global Divestment Announcement

For many years now we have been made aware of the negative impact on the climate caused by the burning of fossil fuels. Pope Francis in Laudato Si challenged everyone on this issue and a growing number of Faith communities, including Dioceses and Religious Congregations have been reducing and eliminating fossil fuel companies from their investment portfolios. On a regular basis for some years there has been a Global Divestment Announcement made and 17 May 2021 has been designated as such a date.

The Trustees together with Alex Davies [Investment Manager] have been engaged in the process of reducing our Institute investments in companies involved with fossil fuels and recently the following statement has been submitted to Operation Noah who organise the Global Announcement:

As Trustees of the Institute of Our Lady of Mercy in the UK, we have been working with our Investment Manager during the past 18 months and can now confirm that we will have fully divested from any holdings involved in Fossil Fuel activities in the near future and within five years at the latest.

 

"In the midst of increasing awareness and acknowledgment of our current Climate emergency, our attention is directed to the urgent need to cut carbon emissions drastically. This presents us with a clear moral imperative to which we are called to respond by divesting from Fossil Fuel holdings and joining the Global Divestment Announcement on 17 May 2021. We see this as a powerful witness to our faith and values in the context of the April Leaders' Summit on Climate and the UK's hosting of the COP26 in Glasgow in November 2021."

 

 

[Sister Maura Mullen on behalf of the Trustees of the Institute of Our Lady of Mercy, UK]

 

The statement appeared in the latest edition of the ICN

Lockdown in Whitby

Our Community in Whitby have also struggled with the confines of lockdown.  The Community is one that offers care to our Sisters.  One Sister has sent in the positives and negatives as she has seen them and the preparations they are making for Easter.

Negatives during lockdown

There was an overriding need for air – to get outside, away from confinement.

Fear, rules and regulations abounded.

Worse – the virus visited us –one and all – Staff too.

While lying on a sick bed – the need, a longing, to hear the voices of family.

Death came calling too – a knock at the door kept bringing news of the loss of another one of our own.

Two in twelve hours, a third a few days later.   Frightening – death was indeed very close.                                                                                    Three funerals within one week, two together, without the usual rituals.

Graveside services only, the first – a double funeral – in torrential rain.

Positives during lockdown

Noticing tiny aspects of nature – a beautiful line of marigolds adorning the back wall of gardens.

Children's messages of thanks and hope on windows added to the weekly national clapping for NHS and Carers.

Seeing two magnificent arcs of a rainbow – surely a sign of God's presence at a funeral service held in Whitby Cemetery for our Sisters.

Then as the sisters returned home there was another broader and richer in colour while finally the last one arched over our house – a sign of protection, a rainbow of hope.

To help our Sisters with attending Mass and other special services another Sister sets up her laptop almost daily to allow two Sisters to  follow a Mass during Lockdown.  She also selects other items of interest for them to watch during this time

Who could find the first snowdrop?  This developed into searching for signs of Spring when out on short walks. And so the golden crocus appeared, followed by the purple and the white.  Daffodils, dwarf and tall pushed quickly through the hard earth.  Tiny tulips were next and grape hyacinths too, catkins on trees, together with buds, eventually blossom all hurrying, uplifting to offer new life.

The radiant light in the sky, the evening sun reflecting on buildings all played their part.  The beauty of both dawn and sunsets added to the resplendent scenes.

There was also the sound of birdsong, and the silence of the empty streets – shops closed – no one about except on vaccination days.            Yet in the silence and stillness there was and is a palpable Presence, offset occasionally by the sound of the wind and waves on the shore.

The care and concern people offer one another other, strangers – stepping aside to allow one to pass safely – the simple question 'Can I help?' – a spirit of Community and Care is evident.

Indoors jigsaws helped pass the time of day, – some Staff became involved too, on their breaks – and in their generosity brought some they had at home – as there were varying degrees of difficulty!

Preparations for Easter

Lent came early – with the promise of Easter.

Five of us took it in turns to lead variations of the Way of the Cross – one each week – these were enriching.

Polystyrene eggs were decorated for an Easter tree organised by Staff.

As for the Easter ceremonies we will follow suggestions offered by our diocese.

However, there are and will be daily individual 'displays', in house, during Holy Week to help with reflection for anyone who wishes to avail of them.

As for this week, Holy Week – our daily displays will cover people and our senses – not exactly together

E.G. Mary Magdalen (Bethany visit); Peter and Judas

Sense of smell (anointing), touch, taste etc.

On Thursday we usually have a symbolic Passover,  Friday – a large wooden cross, nails, hammer,

crown of thorns and on Saturday an Easter Garden with tomb and water feature.

All we can do is take one day at a time –                                                                               Sr Angela Porteous
Reflection

Reflection

 
roselliwa.kampanyabul.site

To make sense of anything in my finite life I need to hold it as part of my relationship with God.

How did Jesus experience and live what I am experiencing and living this year?

STAY AT HOME:  He lived thirty years in Nazareth with his family " increasing in wisdom and age" while he helped Joseph shape and carve the wood. We are created to be "God's work of art". What has been shaped in my experience of lockdown?

COMPANY: Jesus was in the company of Mary and Joseph. No words of Joseph have ever been recorded. Silence enables reflection.

"Mary pondered all these things in her heart. "Silence is more than the absence of noise – Silence needs to be creative.

UNCERTAINTY:  The pandemic brought a deep understanding of the meaning and impact of uncertainty.

This is a reminder of Catherine McAuley's abandonment to Divine Providence.

AT HOME:  Has home become a better place?

AT HOME: There is even greater need to serve the Common Good through outreach. So new skills have to be learned.

MORNING:  Thank you, Lord for the gift of a new day. Help me not to waste it, but to use it to the best of my ability.

NOON:  Like Jesus, tired by the journey, I need to rest by Jacob's well.

EVENING:  There is a sameness about the days – no coming, no going, no variety.

"It is evening. Stay with us, Lord, on the journey".

NIGHT AT HOME:  As I ask God to shower his mercy on his world and on all in need,

I can reach the ends of the earth on the wings of prayer.

Sr Catherine Quane

1st Anniversary of Lockdown
23rd March 2021 First Anniversary of Lockdown
Sr Betty holding the Trinity Icon which is now in Coolock garden,
Newcastle under Lyme in Thanksgiving for protection from the Corona virus.
The icon is made from recycled materials and as we are in Holy Trinity Parish
Sr. Betty was inspired to make a Trinity Icon. It was Blessed by Fr Marco Egawhary,
who is a newly ordained priest and who came to Holy Trinity last Summer.
The second picture shows Sr Bridie mounting the Icon in Venerable Catherine's garden.
After the first lockdown we had a Holy hour from 5 to 6 o'clock every evening in Coolock chapel.
The Blessed Sacrament was exposed in the Trinity Tabernacle.
Sr Bridie Stephens
Sr Betty Larkin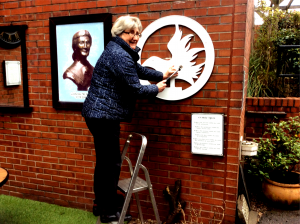 Fix You song by St Mary's Primary School, Eltham
St Mary's RC Primary School, Eltham