Icon of Our Lady of Tenderness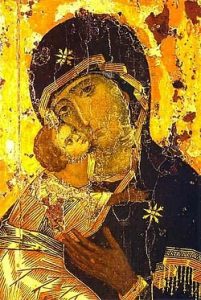 Though often known as 'The Virgin of Vladimir', this twelfth century Byzantine icon was originally gifted to a monastery in Kiev. According to legend, it was seized from Kiev by a prince whose horses stopped at Vladimir and refused to go any further. The Virgin evidently wished to stay there, so a cathedral was built on the spot. She is venerated as the 'Holy Protectress of Russia'. Even in Communist times, Stalin had the icon flown round Moscow as the German tanks advanced. Moscow was saved.
Meditation on an icon is 'a conversational gaze', a communication too deep for words. Mother and Son are so closely cheek-to-cheek that they breathe one breath… but it is upon us that Our Lady is gazing with such infinite tenderness.
What might she be noticing… understanding… seeking in us?